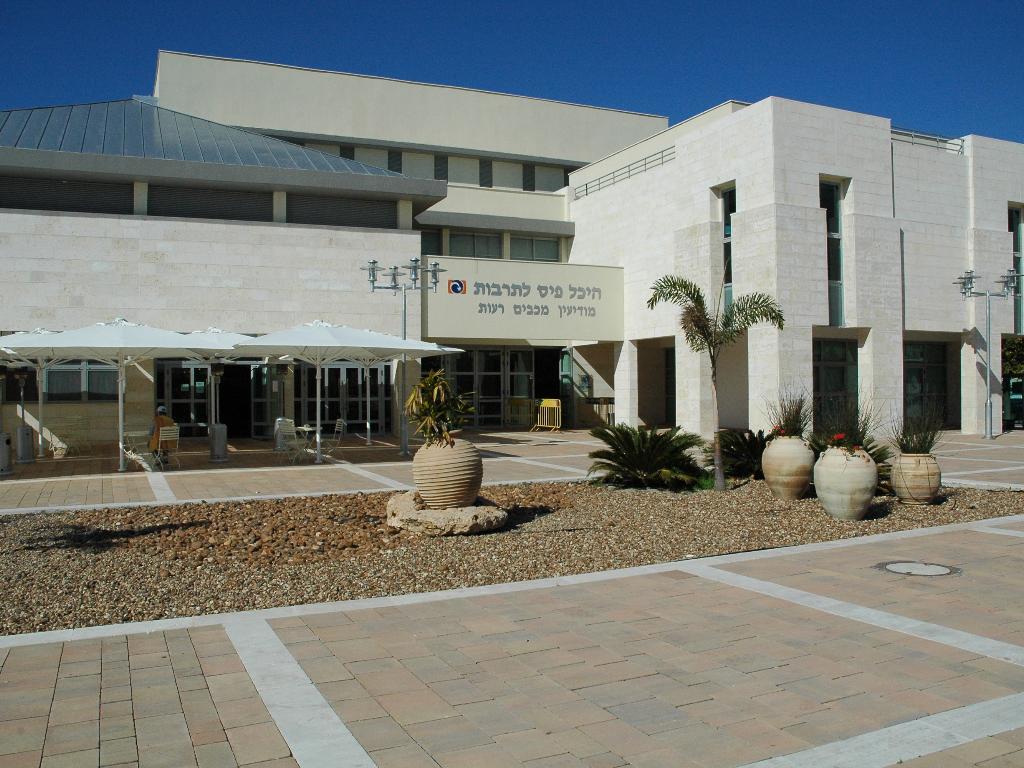 Modiin-Maccabim-Reut Center for the Performing Arts includes an large auditorium, Einan Hall in Azrieli Shopping Center in Modiin, an art gallery, an amphitheatre, café/ restaurant an and a spacious lobby.
The Main Hall
A high quality auditorium which includes 600 designed seats. The Center is equipped with state-of-the-art technical systems, lighting systems and stage facilities.
The center has also a Barco projector and a high quality sound system, which enable to project presentations and films; the centar also has various instructional means, a multi-purpose screen, a mobile screen etc.

Einan Hall – Azrieli Shopping Mall
The Center operates Einan Hall in Azrieli Shopping Center in Modiin, with 346 luxurious seats, a spacious lobby and advanced technological systems. The hall is characterized by central and accessible location, near Modiin Center Railway Station.
Amphitheatre
An amphitheatre with 150 seats. The open space amphitheatre, combined with the adjacent café, creates a unique and intimate atmosphere. The amphitheatre hosts various events, including jazz series for subscribers, morning club for women, lectures, conferences, guest artists etc.

Art gallery
The art gallery hosts the best of contemporary art and exhibits works of various artists. The art gallery hosts the opening ceremonies of exhibitions, lectures and conferences.
Conferences and Events
The Center opens its doors to private and public conferences and events, which include a reception, refreshments and an art program according to customer's requirements.
Using TimeLord
The management of the center chose TimeLord to be its strategic platform of operational management, starting with the planning stage of future shows, through consolidated storage of all shows related documents and ending with operational and statistical reports.